Robert Quigg V.C.
Robert Quigg was a soldier from the WWI. He joined the 12th Royal Irish Rifles of the Ulster Division in September 1914.  He was employed by the Macnaughten family and went to war as batman to Sir Harry Macnaughten.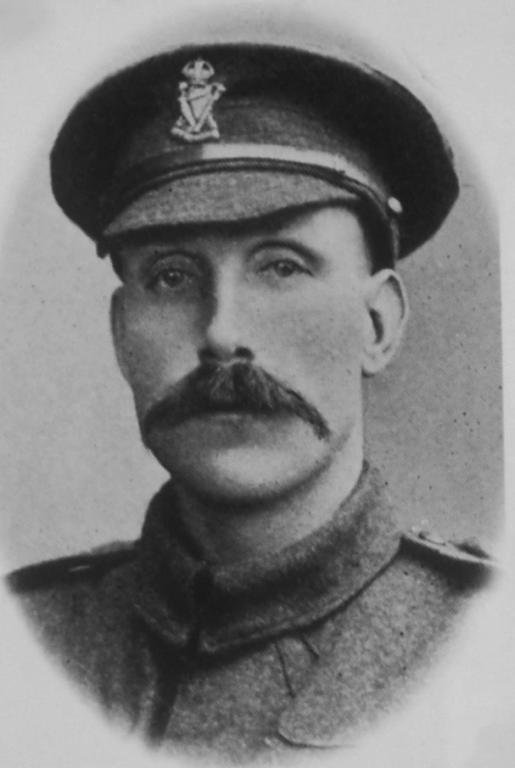 The Battle of the Somme
Robert was a very enthusiastic soldier and went over the top with his battalion on the first day of the Battle of the Somme.
He was in the thickest of the fighting, on the worst day in the history of the British Army.  The following day Sir Harry was still missing so Robert Quigg went out into no man's land to look for him.  Under heavy shelling, he went out seven times and although he did not find his commanding officer, he brought a wounded soldier back each time.
This wonderous bravery earned him a VC which was presented by King George V on 7th January 1917.
The story is told that the King addressed Robert saying, "You are a brave man, Quigg."  And Robert replied, "You're a brave wee man yourself sir."
Private Robert Quigg, VC survived the war, serving in Mesopotamia and Egypt and retired as a sergeant in the Royal Ulster Rifles in 1934.
Returning Home…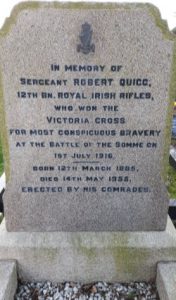 After some civilian service in the army, he returned to Bushmills and was presented to Queen Elizabeth II, when she visited Coleraine on her Coronation tour of the British Isles.
He died on 14th May 1955 and was given a full military burial at Billy Parish Church.  His grave is on the North side of the Church near the Cabragh Road.
Many visitors make the pilgrimage to visit Quigg's grave which is well signposted within church grounds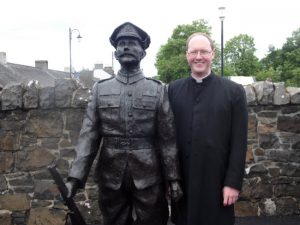 In June 2016, HM The Queen unveiled a statue of Robert in Bushmills that was dedicated by the Rector of Billy, Rev'd John R Anderson.
The Rectory, Dervock, BT53 8BL