The Allen & Adair Hall
Derrykeighan parish has a most unique hall, which was given by Captain Samuel Allen, MC in the 1930's.
The hall is dedicated to his parent's families, the Allen's and the Adair's.  Both families have great naval and military connections.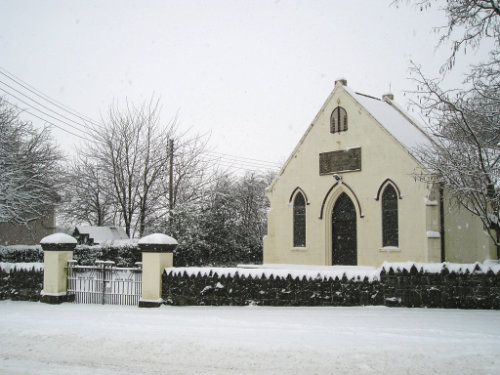 About the Hall…..
Captain Allen chose the best stained glass makers, Heaton, Butler and Bayne to create windows depicting his family's naval history.
The Trafalgar window shows Vice Admiral Lord Nelson on HMS Victory, attended by Captain Charles William Adair.  Both men were to die later that day in the battle of Trafalgar.
Nelson's last words before being hit himself were:
"There goes poor Adair, I may be next to follow him".
The Allen & Adair hall is the only memorial to Captain Adair and one of the few remaining memorials to Nelson in the island of Ireland.
The history of the Allen & Adair's is told through the architecture of the hall in plaques, windows and an oak memorial panel which contains photographs of Captain Allen's illustrious family.
The Rectory, Dervock, BT53 8BL